"WTAJ SNOWFEST" IS FRIDAY, FEBRUARY 8TH THROUGH SUNDAY, FEBRUARY 10TH!

Here's a whole weekend of fun events, special discounts..and "Learn To Ski/Snowboard" opportunities! Friday, from 4:30 until 6:30, WTAJ will broadcast live from Blue Knob..on Saturday, February 9th, come on up for the tubing challenge..you can race WTAJ personalities on our new tubing park! At 2pm, you won't want to miss the "Dummy Downhill", to benefit Big Brothers/Big Sisters of Blair County! Watch the video and check it out..then download the rules & regulations and create your own "Dummy Downhiller"! More fun on Sunday, 2/10 at 11 am as the WTAJ personalities compete in an obstacle race..and we'll have more fun on Sunday afternoon! Check back for updates!  Here's the "Dummy Downhill" video: https://youtu.be/5dvAQ7FI614                Download the "Dummy Downhill" rules & regulations here: BLUE_KNOB__ DUMMY_DOWNHILL_RULES-REGS  
Pre-register by emailing marketing@blueknob.com! Check out WTAJ's official "Snowfest" page: https://www.wearecentralpa.com/snowfest-2019
If you're a fan of great winter videos, you can watch more of Ed Homer's videos at http://vancouverislandchronicles.com/
CHECK OUT THESE DEALS!!
Take advantage of some super low prices on new Snow Tubing Ticket Multi-packs, ticket multi-packs and "learn to ski" packages!  And, our new Corporate/Company passes! Check them all out here: https://blueknob.ltibooking.com/
Gift certificates can be purchased weekdays between 9 am and 3 pm at the Summit Lodge or with a credit card over the phone by calling 814-239-1002 or 239-1003.
SNOW TUBING TICKET MULTI-PAKS HAVE BEEN EXTENDED!!!…AT A $30 SAVINGS!
All new! Four 2-hour snow tubing sessions for only $70…a $30 savings!!! No restrictions..use as many on a given day as you like! Buy a snow tubing multi-pack and bring the family for tubing fun on our NEW tubing park at the top of the mountain! Tubers must be at least 5 and able to ride in a tube by themselves. Purchase here: https://blueknob.ltibooking.com/categories/tubing
TICKET MULTI-PACKS ARE ALSO STILL AVAILABLE  ALONG WITH OUR "LEARN TO SKI "PACKAGE !!
5-ticket multi-packs are available for purchase now through January 31st..both weekend and mid-week! Buy now and SAVE! Some restrictions apply..only one ticket may be used per day and tickets are non-transferable..get more information and purchase here:
https://blueknob.ltibooking.com/categories/lift-tickets
Our "Learn To Ski" package includes 3 lift tickets, 3 rentals and 3 group lessons. The perfect gift for anyone who would like to learn to ski or snowboard..at awesome savings! Does NOT have to be used on consecutive days..can be used on any non-holiday Sunday through Friday. Some restrictions do apply..only one ticket, rental and lesson may be used per day and are non-transferable. Get all the information and purchase here:  https://blueknob.ltibooking.com/categories/learn-to-ski-or-snowboard
ALL NEW THIS YEAR! CORPORATE/COMPANY SEASON PASSES!  THE PERFECT WAY TO PROVIDE INCENTIVES, REWARD OR THANK CLIENTS CUSTOMERS AND EMPLOYEES!
These passes are issued in your company or business name..but, they're transferable, meaning you can offer them to others for a day of skiing or snowboarding! There are TWO passes to choose from. The "Ski/Snowboard Pass" which is good for ANY day during the winter sports season and, we're offering the year-round "Super Pass", good for winter sports, golf and seasonal events! Buy an individual pass or a 4-pack! . Some restrictions apply..call 814-239-1002 for more details!
THERE ARE  STILL OPPORTUNITIES TO GET A JOB THAT INCLUDES SKIING & RIDING PRIVILEGES!
There's still opportunities for a seasonal job here at Blue Knob All Seasons Resort..which includes skiing and riding privileges! We have positions available for Food & Beverage/Event Staff, Customer Service positions, Rental Shop Staff, Ski/Snowboard Instructors and Snow Making Crew! Download an application and bring it to the Summit Lodge weekdays between 9 am and 3 pm..or, fill it out, scan it and email to mountainmanager@blueknob.com.   Download here: https://blueknob.com/employment/
THE BLUE KNOB SKI TEAM IS SIGNING UP NEW MEMBERS! DOWNLOAD AN APPLICATION!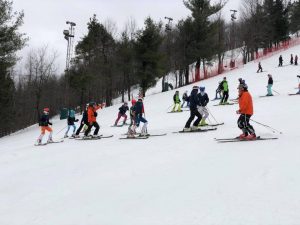 The Blue Knob Ski Team is an amateur alpine ski racing team that participates in Pennsylvania Alpine Racing Association sanctioned events. The team features experienced coaches who offer expert advice and instruction. Download an application for more information! BLUE_KNOB_2018-2019_BKSSC_Registration_Form_v_4
NEW SEASONAL LOCKERS ARE AVAILABLE TO RENT!
If you've ever wanted to have a seasonal locker to store your equipment in here at the resort, we've added 45 new seasonal lockers for rental. Cost is $200 for the season. The lockers are 6 feet tall, 12 inches deep and 16 inches wide. For more information or to rent, call 814-239-1002.