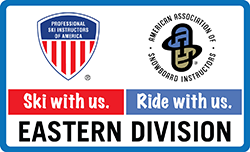 Group and Private Lessons
---

---
Often, learning a new activity can be frustrating, even for children. Lessons are a great way of overcoming your fears and learning tips that can lessen your anxiety and make your time on the mountain more enjoyable and much safer.
For adults and children age 16 and up, Blue Knob All Seasons Resort offers group beginner lessons. Private lessons are available for ages 4 and older. Advanced lessons are offered for the more experienced skier or snowboarder, or for those wanting to enhance their new skills.
For the coming 2022-2023 season, please be advised that ALL lessons must be reserved at least 48 hours in advance and group lessons may be modified due to social distancing concerns..
To fast-track your skills or get over fears of moguls and other challenges on the slopes, visit our Contact Us page or call 814-239-1006.
Kids on the Mountain Love "New Generation Ski Academy"
---

---
At Blue Knob All Seasons Resort we are affiliated with both professional ski and snowboard instructor associations. Our dedicated instructors work to ensure that children get a strong foundation in the basics of skiing or snowboarding while becoming more proficient and enjoying their time on the mountain. Children are broken down into age groups: 4-6, 6-8 and 9-12.
New Generations Ski Academy at Blue Knob All Seasons Resorts is also a great way for your child to make life-long winter sports friends. Call us today at 814-239-1006.
Ski & Ride School
---

Weekends/Holidays
9:00am - 4:00pm
Lesson

Time

Cost

Private Lesson (1 hour)

Weekdays

$70

Weekends/Holidays

$85

Beginner Group Lesson ( 1 to 1.5 hours, depending on group size)

Weekdays: 1:00 pm

$40

Beginner Group Lesson

Weekends: 10:30 am and 1:00 pm

$50

Lessons do not include lift and rental. Call for off hour appointments.
New Generation Academy
---

---
Lesson

Time

Cost

Children age groups 4-5, 6-8, 9-12 and 13-15 - Weekends and Holidays

Full Session*

10:00am - 4:00pm

$165

Morning Session

10:00am - Noon

$90 Weekday $100 Weekend

Afternoon Session (Weekends Only)

1:30pm - 3:30pm

$100

Beginner Group Lesson

Weekends: 10:30 am and 1:00 pm

$50

*Full day session parents must pick up child for lunch from 12:00 to 1:00. No Discounts for own equipment. Reservation only, 48 hours ahead with a credit card deposit. For details or to make a reservation call 814-239-1006.

Children - Weekdays

Morning Session

10:00am - 12:00pm

$90