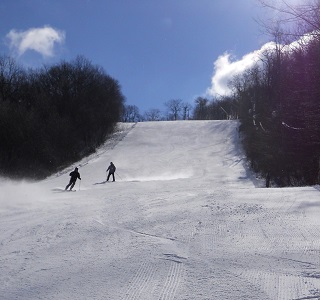 | 2021-2022 Prices | Monday to Friday (Non-Holiday) | Weekends/Holidays |
| --- | --- | --- |
| Adult 5 Hour Flex (Non-Holiday Mon – Thurs. Only) | $43 | N/A |
| Adult Day Session (10 am -7pm, Mon – Fri, 9am-6pm, Sat.- Sun.) | $45 | $75/$80 |
| Adult Twilight Session (1pm-Close, Thurs-Sun only) | $45 | $75/$80 |
| Adult All Day (Open To Close, Thurs -Sun only) | $58 | $85/$90 |
| Night Adult  (4pm – Close, Thurs – Sun only) | $35 | $42/$45 |
---

---
---

---
Dates For Holiday Rates.
---

---
Friday, December 24, 2021 through Sunday, January 2nd, 2022
Saturday, January 15, 2022 through Monday, January 17, 2022
Saturday, February 19, 2022 through Monday, February 21, 2022
Blue Knob Special Ticket Offers!.
---

---
Junior (12 and under), Senior (65 and older), Military (active and dependents with ID) and first responders take $5 off ticket prices.Children 5 and younger ski free with paying adult. Multi-day discount ticket purchases available. Daily tickets and multi-day packages are non-refundable and non-transferable when the resort is open for business.
---

---
Non-Holiday Weekday Lift Ticket Specials!
Monday is "Military/1st Responder Day"" -$38 lift tickets for active military & veterans with valid Military ID and police, firefighters & EMT's with ID
Tuesday is "College Day" - $38 lift tickets for college students with valid student ID.
---
---
Multi-Day Lift Tickets
First Day ticket is purchased at full price, then get $5 off each additional day.
---

---
Discount for Season Pass Holders—No Matter Where You're a Pass Holder!
Season Pass holder at another resort? No problem! At Blue Knob All Seasons Resort on any non-holiday, Monday thru Friday, you can purchase a day or twilight session lift ticket for $38!
---

---
Season Pass Price!
Season Passes Are Currently Discounted!
Check our online store for current discounts!
Season Passes Regular Prices
Adult Full - $619
Adult Mid-Week (non-holiday weekday) - $365
Jr/Sr//College//Military/1st Responder Full - $405
Jr/Sr/College/Military/1st Responder Mid-Week (non-holiday weekday) - $305
Child Full - $355
Child Mid-Week (non-holiday weekday) - $279
("Child" is ages 6 through 12, "Junior" is ages 13 through 18, "Senior" is ages 65 - 69)