Blue Knob All Seasons Resort is proud to participate in the Indy Pass, a new, multi-resort ski pass that has now expanded to 44 ski areas across North America! It's on sale NOW for the 2019-2020 season and will provide two days of access – 88 total days – at 44 independently owned resorts for just $199! The price will go up from $199 to $219 on December 1, 2019.
Indy Pass resorts provide an uncrowded and welcoming experience for individuals and families seeking great snow and varied terrain. In addition, vacation getaways at these small to mid-size ski areas cost a small fraction of what major resorts charge for comparable stays. The Indy Pass is designed for people seeking a more intimate, laid back mountain experience. Where the powder isn't tracked out by 10am and kids are safe riding on their own. Where ski area owners work alongside frontline staff to provide a welcoming environment for experts and novices alike.
The Indy Pass is a response by independent ski areas to the consolidation of many high-profile resorts that sell multi-mountain ski passes and command vast marketing resources. This has left independent and family-owned areas at a big disadvantage. Indy Pass resorts will be part of a marketing co-op dedicated to promoting the benefits of small-to-mid-sized areas.
37 of 44 participating resorts offer UNRESTRICTED, season-long access. Four have holiday blackouts and two allow midweek-only access. See indyskipass.com for details.
Buy your Indy Pass today!

Join the revolution and receive:
2 Free days at 44 resorts across North America!
One additional discounted ticket at each Indy Resort after redemption of the Indy Pass is fulfilled.
Discounted kids tickets (12 & under) when redeeming an Indy Pass at a participating resort.
Special offers from participating resorts for lodging, rentals, lessons & more!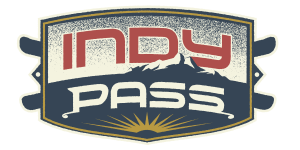 Participating resorts for the 2019-2020 season are:
WESTERN REGION – 15
ALASKA – Eaglecrest Ski Area
ALBERTA – Castle Mountain Resort
ARIZONA – Sunrise Park
BRITISH COLUMBIA – Apex Mountain Resort
CALIFORNIA – Mt. Shasta Ski Park
IDAHO – Brundage Mountain, Silver Mountain
OREGON – Hoodoo
MONTANA – Lost Trail Powder Mountain, Red Lodge Mountain
UTAH – Beaver Mountain
WASHINGTON – 49 Degrees North, Hurricane Ridge, Mission Ridge, White Pass
MIDWEST REGION – 14

MICHIGAN – Big Powderhorn Resort, Caberfae Peaks, Cannonsburg Ski Area, Pine Mountain Resort, Shanty Creek, Swiss Valley Ski Area
MINNESOTA – Giants Ridge, Spirit Mountain, Powder Ridge Mountain Park and Resort
SOUTH DAKOTA – Terry Peak Ski Area
WISCONSIN – Little Switzerland, Nordic Mountain, Trollhaugen, Tyrol Basin
EASTERN REGION – 15
CONNECTICUT – Mohawk Mountain Ski Area
MASSACHUSETTS – Berkshire East Mountain Resort, Catamount Mountain Resort*
NEW HAMPSHIRE – Pats Peak
NEW YORK – Catamount Mountain Resort*, Greek Peak Mountain Resort
NORTH CAROLINA – Cataloochee Ski Area
PENNSYLVANIA – Blue Knob All Seasons Resort,  Shawnee Mountain
VERMONT – Bolton Valley Resort, Magic Mountain, Suicide Six Resort
VIRGINIA – Bryce Resort, Massanutten Resort
WEST VIRGINIA – Canaan Valley Ski Resort
*Catamount straddles NY/MA border