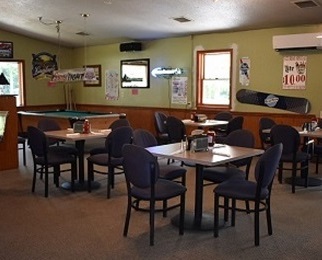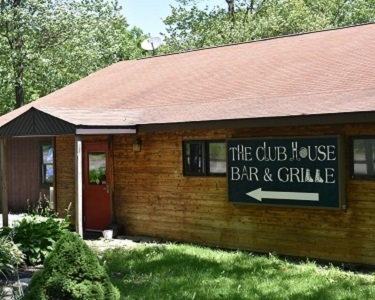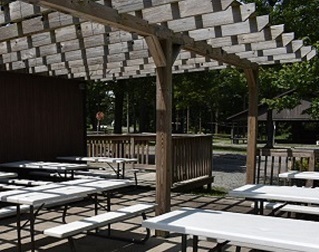 Casual Dining with Flair
---

---
Join us at the Blue Knob Clubhouse Bar and Grill, located in our Alpine Village.
With casual dining options for every age and a fully stocked bar, the Clubhouse is a great place to relax. The Clubhouse Bar and Grill serves lunch and dinner..and, Saturday and Sunday mornings, don't miss our breakfast from 8 am until 11 am! Takeout is available by calling 814-239-1024. The Clubhouse offers daily specials..and don't forget our summer Friday night BBQ's!
The Clubhouse has a casual atmosphere and is a favorite with skiers, golfers, hikers and mountain bikers. Stop by and give us a try. Don't forget our wine tasting the second Thursday of every month!
Entertainment
We feature some great entertainment each weekend!
Make sure to connect with our Facebook page for a full entertainment schedule and to see our specials!
Hours of Operation
Sunday
: 8am - 9pm
Monday
: 11pm - 7pm
Tuesday
: 11am - 9pm
Wednesday
:11am - 9pm
Thursday
: 11am - 9pm
Friday
: 11am - 11pm
Saturday
: 8am - 11pm
Blue Knob Clubhouse Specials!
Sunday
: Quesadillas - $9
Monday
: 2 chili cheese dogs with a side of chips - $5.00
Tuesday
: Taco Tuesday - 2 For $3
Wednesday
:BLT with chips- $9.00
Thursday
: Wings - $8 Doz/$15 for 2 Doz
Friday
: "Summer Acoustic BBQ" - choice of chicken or 1/2 rack of ribs with 2 sides for $18
Saturday
: Pulled Pork and Onion Rings with a side of coleslaw. - $12
We Offer Breakfast Each Weekend!
Fuel up for your day at Blue Knob with a hearty breakfast at the Blue Knob Clubhouse from 8 until 11 am, Saturday and Sunday! Enjoy a made-to-order breakfast featuring your favorite breakfast foods...everything priced $10 or under! If you're staying on the mountain, this has to be your first stop of the day! Try the new Bloody Mary Bar every Sunday during breakfast. Choose your vodka, add our house made fresh Blue Knob Bloody Mary mix, add your fixings, and garnish!
Here's our breakfast menu:
Breakfast Mess - a "mess" of all things breakfast. eggs, ham, bacon, sausage, potatoes, peppers and onions - $10
Sausage Gravy & Biscuits - 3 biscuits smothered in creamy sausage gravy - $10
French Toast Breakfast - French toast sticks or pancakes, 2 scrambled eggs, 2 slice bacon - $9.
Western Omelet - 3 egg omelet with ham, cheddar, green peppers - $9
Toasted Bagel - Served w/cream cheese - $4
Breakfast Burrito - Served with a side of hot sauce - $9
Mountain Breakfast - 2 eggs, choice of bacon or sausage links, side of home fries and 2 pieces of toast. - $9
The Blue Knob Clubhouse Wings Are Award-Winnng!
On Saturday, May 4th, the Blue Knob Clubhouse participated in Bedford's 2019 "Wing Square-Off". The AWESOME Clubhouse wings took home 3 out of 4 awards! The Clubhouse's "Mountain Melter" wings  won "Hottest Of The Hot" and the "Rockin' Ranch" wings won "People's Choice" and "Best Sauce"! Congratulations to our incredible staff! Make sure that you check out the Blue Knob Clubhouse's award-winning wings on your next visit!!
Save The Date For Our "Sea Food Festival" On Saturday, July 20th From 5 Until 10pm!
Seafood Fest is back and even better this year! Join us for a menu of seafood entree's & appetizers. Options include Snow crab legs, scallops, fried clams and more! To allow us to offer all seafood all night and to better serve our guests, our menu is turning all seafood all night! We will not be offering our normal menu during the hours of 5pm-10pm, but will have limited menu of non-seafood options for the kiddos and land lovers! Live entertainment and drink specials all night! We will be seating guests in our Clubhouse restaurant as well as outdoors on our patio and under a tented family-style atmosphere.
Reservations are STRONGLY recommended, but not required. Calling ahead not only helps us prepare, but also helps us to insure a pleasant experience for all of our guests. Please call 814-239-1035, preferably by July 16th. Please keep in mind, as always, all specials are while supplies last. Check out the full menu!!
Make Your Reservation Today For Our August Wine Tasting & Dinner!
Thursday, August 8th is the evening of our August Wine Tasting & Dinner! NOT just a wine tasting..you'll sample fine wines with food pairings..a full 5-course dinner, but in a casual, relaxing atmosphere. Cost is $28 per person. Reservations are required and must be made by 5 pm on Wednesday, August 7th in order to guarantee your seating. Call 814-239-1035 or email events@blueknob.com.
For more information visit our Contact Us page or call 814-239-1024.
Check Out The Full Menu For Our "Seafood Fest" On Saturday, July 20th!