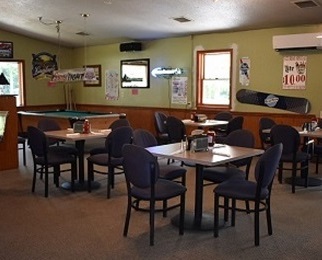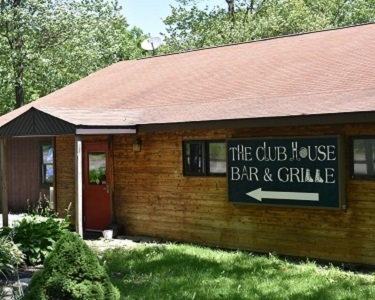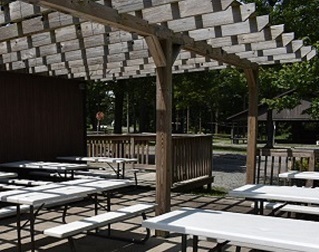 Casual Dining with Flair
---

---
Join us at the Blue Knob Clubhouse Bar and Grill, located in our Alpine Village.
With casual dining options for every age and a fully stocked bar, the Clubhouse is a great place to relax. The Clubhouse Bar and Grill serves lunch and dinner..and, Saturday and Sunday mornings during the winter sports season, don't miss our breakfast from 8 am until 11 am! Takeout is available by calling 814-239-1024. The Clubhouse offers daily specials..and don't forget our summer Friday night BBQ's!
The Clubhouse has a casual atmosphere and is a favorite with skiers, golfers, hikers and mountain bikers. Stop by and give us a try. Don't forget our wine tasting the second Thursday of every month!
Entertainment
We feature some great entertainment each weekend!
Make sure to connect with our Facebook page for a full entertainment schedule and to see our specials!
Hours of Operation
Sunday,
: 8am - 9pm
Monday,
: 4pm - 9pm
Tuesday,
: 11am - 10pm
Wednesday,
:11am - 10pm
Thursday,
: 11am - 10pm
Friday,
: 11am - 11pm
Saturday,
: 8am - 11pm
Even though the ski are is closed from Monday, 3/25 through Thursday, 3/28, the Blue Knob Clubhouse will be open regular hours!
Blue Knob Clubhouse March Specials!
Sunday, : Quesadillas - $9 Monday, : Flatbread Pizza - $7 Tuesday,: Taco Tuesday - 2 For $3 Wednesday,:Soup In A Bread Bowl & Side Salad - $8 Thursday,: Wings - $8 Doz/$15 for 2 Doz Friday, : Chef's "Fish Fryday" - $12 Saturday, : Stuffed Shells & Garlic Bread - $12
We'll Be Offering Breakfast Each Weekend During The Winter Sports Season!!
Fuel up for your day at Blue Knob with a hearty breakfast at the Blue Knob Clubhouse from 8 until 11 am, Saturday and Sunday during the winter sports season! Enjoy a made-to-order breakfast featuring your favorite breakfast foods...everything priced $10 or under! If you're staying on the mountain, this has to be your first stop of the day! Try the new Bloody Mary Bar every Sunday during breakfast. Choose your vodka, add our house made fresh Blue Knob Bloody Mary mix, add your fixings, and garnish!
Here's our breakfast menu:
Breakfast Mess - a "mess" of all things breakfast. eggs, ham, bacon, sausage, potatoes, peppers and onions - $10
Creamed chipped beef ,served on 2 slices Texas toast - $9
French Toast Breakfast - 4 French toast sticks, 2 scrambled eggs, 2 slice bacon -, $9.
Western Omelet - 3 egg omelet with ham, cheddar, green peppers
Toasted bagel - plain or everything bagel served with cream cheese
For more information visit our Contact Us page or call 814-239-1024.